I was participating in an Erasmus exchange student program of one month duration this Spring (2019). The following entry is a response to a query about the travel. The destination country in question was Scotland. We integrated into a class of students' daily study routine in Clyde College, Glasgow.
To tell you the truth, when I was informed about the opportunity to go studying abroad I got thrilled. Even moreso when the natives speak English, so I didn't have to burden myself studying another language. Sure, while you'll get by with English pretty much anywhere in the world, having meaningful conversations may prove difficult due to the language barrier. You may also have to talk slowly and casually if they're not fluent.
Me and my former classmate Kalle booked and sort of planned the journey all by ourselves. This had been both of our first independent travel, which got us just a little nervous. All the way from booking the flights and figuring out AirBnB to getting familiar with living in a new country was all new to us. But since I'm writing this right now in such high spirits, in retrospect, everything went smooth sailing. We first flew to Edinburgh via London because of the cheaper flights. There we spent the night just a ten-minutes walk away from Edinburgh Castle in a high-demand AirBnB apartment.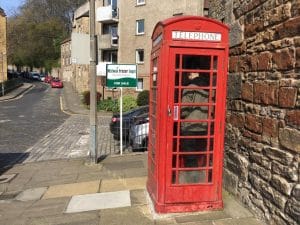 It was the medieval streetplans that caught my attention right off the bat. Since Finland is a relatively young country, there's nothing like that here. The excitement doesn't stop in just to the old parts of Scotland, but everywhere. I can't find the proper words to explain the feeling, but just looking at how people moved and how things went forward, it's as if everyone's got this mutual mindset of "eh.. close enough". You know what I'm saying? A red light for pedestrians means "go ahead, but don't get run over." Traffic overlay doesn't feel that refined in some places. Independent business opening hours are trivial and – to my knowledge – often not even announced. Buildings often have this really outdated feel to them and repairs are done with that in mind; I'm still reminding you that I'm from a much younger country where we don't have that kind of stuff. My classmate complained about the water pressure in shower numerous times, so I rest my case. Even at school, I didn't seem to get any clear indication when anyone is supposed to be in class, because many were absent. We even found out that they don't have classes but only three days a week. What?
Studying itself was like a welcoming handshake from home. We were doing about the same things there, like playing with Arduino, programming, doing electronic projects and having theory lectures. Only difference was, there was no dedicated workspace for all of this. In other words, once the class ends, you'd have to take your project apart and kind of start again next week. The classes that used this sort of approach had limited (and shared) resources, but also simple enough assignments to be able to complete before the end of period. Nevertheless, this type of studying felt nostalgic, yet restricting. We just went with the flow. Most of the assignments ended up being a little too elementary for my tastes, so that's something future students might want to look into. You might not want to throw a second-year student into a first-year lesson.
The refectory at school was a bit of a shock to us. I've heard about the "American school meal", which is either bring-your-own-lunch, or pay the school for a processed meal. We're coming from a country where a portion of our taxes go into education, including a free-of-charge school meal for grade and high school students that actually resembles a domestic lunch. Higher education students must pay a few euros for the same meal. A usual school lunch includes bread, salad, the main course and milk. Basically a textbook plate model, straight from the school canteen. Sure, it might not be as good as home, but considering the number of people they have to serve, I find it excusable. I'm aware that how we have it is exceptional internationally, but seeing it first-hand was a culture shock. You had to pay separately for each individual item, be it a drink, fruit, sandwich or the meal. As for the meals, we got served sweet stir fries and other dishes you might consider as junk food. Needless to say, school food and cheap sweets combined, my healthy diet fell apart.
There's something charming about the Scottish people though. Small-talk is a big thing – which, unfortunately wasn't as contagious as I'd hoped it to be – and the people were really hospitable. Even our AirBnB host – a lovely mother of two in her sixties – contacted us occasionally to assure everything's going fine. We also tried hitchhiking a few times during our weekend holidays and discovered some amazing people along the way: a family-man with a heavy Scottish accent, a Welch guy who was visiting Scotland on his day-off, a retired electronics expert and an English couple returning home. There was something that all these people had in common: The thought that strangers are just friends they haven't met yet and there's never a shortage of things to talk about. Mind you, we only had to wait an average of 15 minutes for a ride in Scotland, whereas my experiences in Finland are closer to 45 minutes. As I see it, these folks have a different attitude in life. At the same time, I might just be creating my own delusions based on the little experiences we had. Besides, we all have that tendency to bad-mouth our own countries.
Even though this Erasmus experience was exceptional by normal standards – with all the planning we had to do ourselves – I still think we got more out of it compared to an traditional exchange with a bunch of other students. We rented an apartment from a local, we had to meet up with the locals (because there were only two of us) and we stayed with locals through couchsurfing in beautiful cities like Inverness and Edinburgh. That, I think, is the exact definition of a culture-exchange study program.
-Miko Lankinen